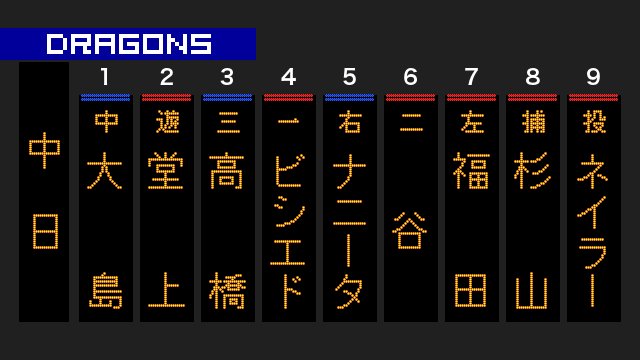 This is not chicken scratch. There's a way to read this
With the 2016 season upon us, I figure I can give a simple guide on how to see a lineup card so it can become easier for you.
There are some basic things to understand before we go into looking at one. Here are some notes:
-Foreign players names are in
Katakana
while domestic players are in Kanji. The Kanji derives from Chinese. Essentially, when you have a foreign name, you can use the alphabet in Katakana and make a new word in Japanese. This means your surname could be pronounced with a Japanese accent.
-Pitchers bat in the Central League while the Pacific League has a designated hitter. Like MLB interleague games, the home team decides which rules occur when the Pacific takes on the Central.
-Lineups are usually announced 35 minutes before a game. That's the exact deadline for managers to submit their cards to the umpire.
-There is a Twitter account for each team that presumably tweets the live score/lineups/and boxscores in image form. (Other
accounts include
Baseball King
) You can follow an account for your team.
Chunichi Dragons
Orix Buffaloes
Fukuoka Softbank Hawks
Chiba Lotte Marines
Yomiuri Giants
Saitama Seibu Lions
Hiroshima Toyo Carp
Tokyo Yakult Swallows
Yokohama DeNA Baystars
Hokkaido Nippon-Ham Fighters
Tohoku Rakuten Golden Eagles
Hanshin Tigers
===
The Lineup: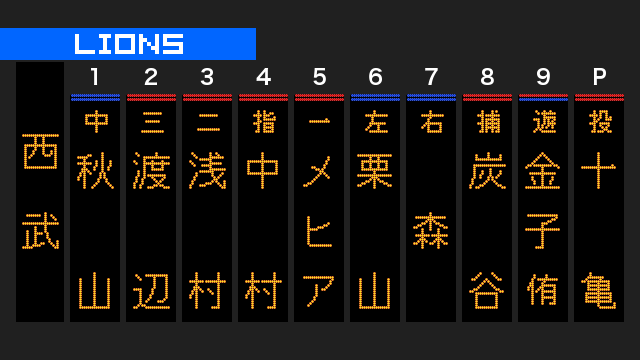 First thing to note in this example is how the team name is on the left with 西武 (Seibu) in this case. Obviously it helps to see "Lions" on the top.
The numbers of course from left to right represent the batting order (while the pitcher of course is listed afterwards for a Pacific League team).
The Red and Blue lines below the numbers represent if the player is left handed or right handed.
Red

-
Right handed batter.
Blue

-
Left handed batter
Red / Blue
- Switch hitter
Below that is the Kanji (abbreviated) for each position the player is for the game while in the field.
Here are the Kanji for each position:
一
- First Base /
Ichi
二
- Second Base /
Ni
三
- Third Base /
San
(Not pronounced like San Jose, but
Sahn
)
(These should be self explanatory I hope. That's also how to say 1-2-3 in Japanese)
指
- Designated Hitter. This kanji has multiple meanings including "finger" /
Yubi
. In this case, it's short for 指定 /
Shitei
which means to designate/assign.
右
- Right Fielder. The kanji obviously means "Right" in a directional meaning, which is pronounced as
Migi.
中
- Center Fielder. The 中 kanji has a lot of meanings, but in this case it refers to the center or
Chushin.
It can also mean
Naka
which is where we see plenty of names containing this kanji.
左
-
Left Fielder. Like right,
Hidari
is how to say "left" in Japanese. Pronounce
Hidari
like
Hidodi.
捕
- Catcher. This kanji is abbreviated for 捕手 /
Hoshu,
which means "catching arm". In Japanese, they can also say "catcher" in Japanese with キャッチャー in Katakana. It's pronounced as
catcha.
遊
- Shortstop. It's an abbreviation for 遊撃手 /
Yūgekishu
, which literally translates into "playing shooting arm."
投
- Pitcher. Once again, the kanji is abbreviated for 投手 /
Toshu. "
投" can mean to throw, or toss away while "手" can mean hand/arm. So it's a literally translation of throwing/pitching arm. It's possible you can also hear ピッチャー /
Pitcha
said by announcers.
===
This part can become tricky, but here is the best way to shortcut this. You can always use Google Translate, but the NPB website has the roster listings in Japanese and also in English. In this case, take a look at the Lions pages listed below:
You'll notice immediately that the Japanese page is by position, then numerical order while the English version is done by position, then alphabetical order by romanized surname. The last name is also listed before the first name in Japanese.
Matching the numbers is the instant way to do this. See the jersey number listed on the left. After some studying and repetition of seeing the same names over and over, this becomes easy over time.
For the following, we can conclude the lineup is as follows:
1. CF Shogo Akiyama
2. 3B Naoto Watanabe
3. 2B Hideto Asamura
4. DH Takeya Nakamura
5. 1B Ernesto Mejia
6. LF Takumi Kuriyama
7. RF Tomoya Mori
8. C Ginjiro Sumitani
9. SS Yuji Kaneko
P. RHP Ken Togame
When we tweet the lineup on our
@GraveyardBall
account, it will look like this.
8 Akiyama
5 Watanabe
4 Asamura
DH Nakamura
3 Mejia
7 Kuriyama
9 Mori
2 Sumitani
6 Kaneko
(P or 1) Togame
===
As a bonus using the method above, I can also write the Chunichi Dragons lineup (from the top of this post). Using their
English
and
Japanese
roster pages, I can conclude the following:
1. CF Yohei Oshima
2. SS Naomichi Donoue
3. 3B Shuhei Takahashi
4. 1B Dayan Viciedo
5. RF Ricardo Nanita
6. 2B Tetsuya Tani
7. LF Nobumasa Fukuda
8. C Shota Sugiyama
9. P Drew Naylor
So to type this lineup on Twitter it would look like this:
8 Oshima
6 Donoue
5 Takahashi
3 Viciedo
9 Nanita
4 Tani
7 Fukuda
2 Sugiyama
1 Naylor

===


So there you have it. You can now read Japanese without having major expertise on the language when looking at a lineup card. It will take some practice and memorization, but after awhile, you'll get used to it.
Enjoy your baseball!
===