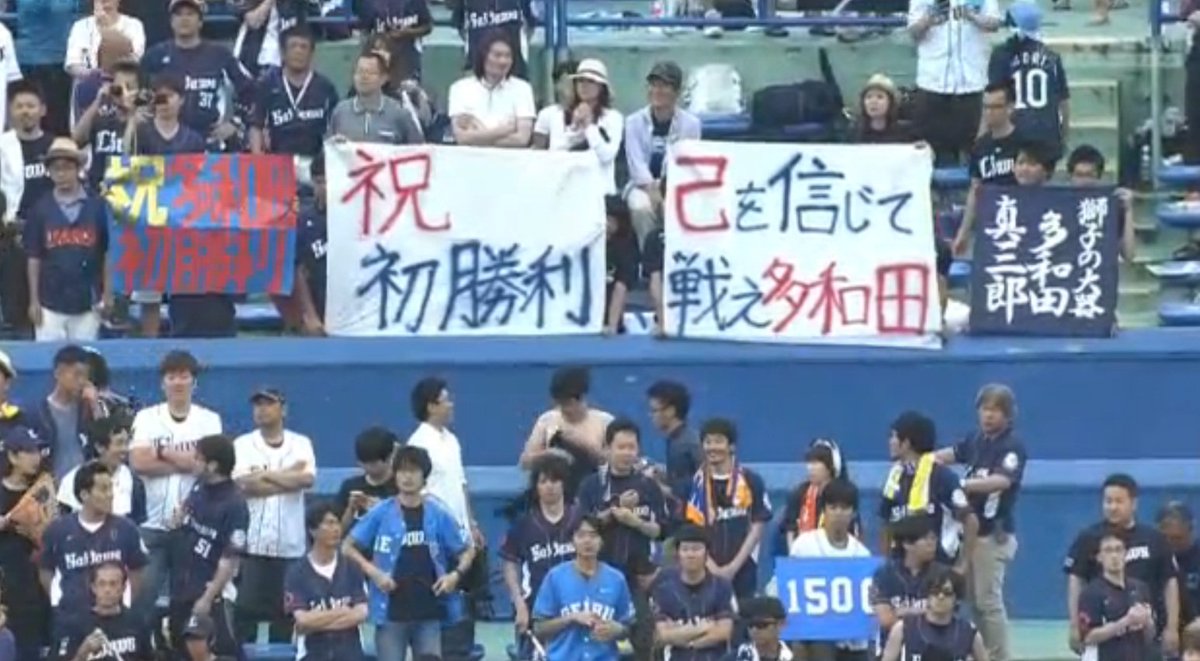 Multiple signs from the Lions Oendan congratulated Tawata on his first win. The white sign on the right encourages him to believe in himself.
Shinsaburo Tawata earned his first career victory in NPB on June 19th in Jingu Stadium against the Tokyo Yakult Swallows.
He went five innings allowing five earned runs, six hits, one walk, two HBP and two strikeouts. The Lions were able to take the lead in the top of the 6th to give him his first ichi-gun victory.
The Saitama Seibu Lions uploaded a video of an interview with him during the week. With interleague play over, the makeup period ended up being a week of mostly no games.
Here is a translated transcript of what Tawata said:
On his first win:
"[Even] though I [allowed] some runs, I was glad to gain my first victory.
In my university days [at Fuji University], I pitched a [no hitter] game at Jingu Stadium, so [in] this stadium, I [may] have a [destiny]."
"On my 6th game as a starter, at last I got a victory and I felt that it had taken a little long."
===
On his best career game up to this point:
"The most impressive game was vs. the Chunichi [Dragons] because I [pitched] 8 innings with no earned runs. My fastball was very nice."
===
On conditioning and exercise:
"Everyday I have a game or exercise more and more. My [conditioning] is becoming [hard], so I [need to] take care of myself."
===
On which pitch is a primary focus:
"[The] sinker ball is my assignment."
===
On what his immediate goal is:
"My [goal] is to get win at Seibu Dome as soon as possible."
===
Closing statement to fans and viewers:
"I will concentrate my attention on every game and do my best game by game. Please root for me!"
===
Special Thanks to our friend "Maple Ash" for translation help.
===
Follow us on Twitter @GraveyardBall